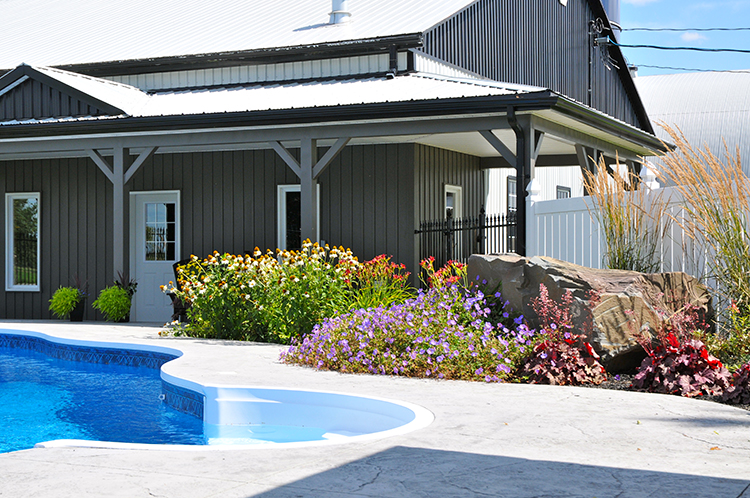 Enjoy living in your backyard, not just swimming in your pool
When adding a pool to your backyard, the actual installation of the pool is only half the job. The other half is comprised of what goes around the pool to give your backyard oasis polish and make the area more livable.
Enter landscaping. Both softscaping (trees, shrubs, and flowerbeds) and hardscaping (decking, fences, patios, walkways, and retaining walls) can turn your new pool space into a backyard oasis. The key is adding the right elements that will fit your style, lifestyle, and budget.
To streamline your planning process, consider your vision, then how you want the space around your pool to function, and finally of course, your budget.
Vision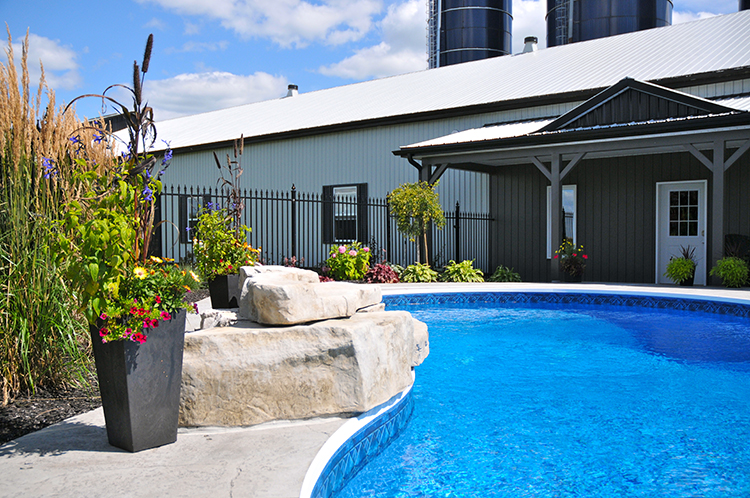 This is your invitation to have a big "blue sky" session. Include others who will also be using the finished space and note all wants and needs. Pinterest is a great tool for curating your vision in a private vision board that you can share with your landscaping professional.
This is not the time to stifle creativity with practical matters. Browse through images of other backyard pool areas and gather inspiration. If something looks too big, too complex, or too fancy, keep in mind that elements that you like can be scaled down, simplified, or otherwise altered to meet your needs and budget during later planning stages.
Right now, just allow yourself to think big and think of possibilities.
Function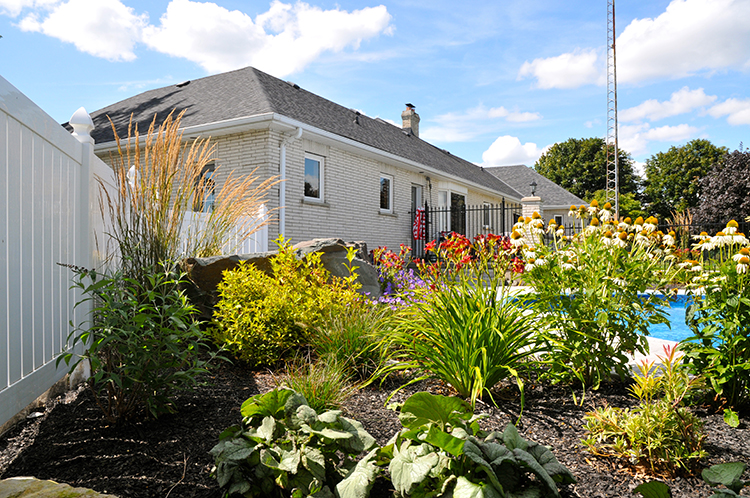 This step incorporates more practicality into your plan. Take some time to think about how you will be using your finished backyard. Talk to other pool owners about the things they love most about their yard and perhaps what they would have done differently if they could do it again.
Consider maintenance required for trees, shrubs, and gardens. Do you need shade? Do you want more colour? Do you want fast-growing plants and trees or would you prefer softscaping whose shape and size is easy to maintain?
Do you want a large patio for lounging with family and friends? Do you want additional privacy? What about lighting for nighttime use? And you'll likely need storage for pool and patio furniture and accessories. When we meet with clients, we address all of these things, but many people like to conduct their own due diligence beforehand.
Budget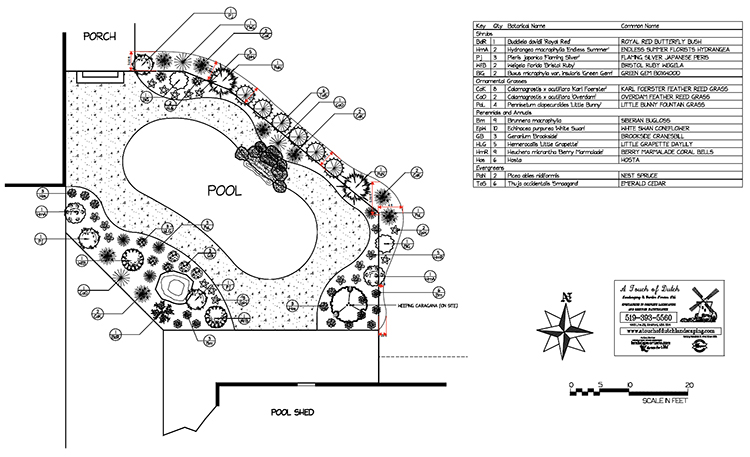 From modest to unlimited, we work with all kinds of budgets. And we'll be happy to work within yours while showing you how to maximize the return on your investment without compromising your entire vision.
Like most other landscaping projects, converting your backyard pool installation into a full backyard oasis can be accomplished in phases. So, if your current budget doesn't allow for everything on your wish list, consider breaking the project into steps, adding your wish list elements over two or more years. We can help you establish priorities based on budget and short- versus long-term needs, and then create a plan accordingly.
A backyard pool project is exciting. However, if you want to spend your summers in your backyard, but not always in your pool, how you landscape and furnish the space around the pool is as important as the pool itself.
We love working with clients to make their backyard dreams a reality and are happy to work with you at your pace to bring your dreams to life. Contact us for assistance at any stage of the process.