Have you been thinking of…
Creating a water feature on your property
Winterizing your water feature in the Fall
Starting up your water feature in the Spring
How to properly maintain your existing water feature
In the last number of years, water features have become a very popular landscape item.
Water features include everything from a low maintenance "bubbling rock", just to hear the sound of water, to large elaborate ponds with streams, waterfalls, fish and water plants.
We have installed numerous water features using the Aquascape Ecosystem. This system promotes a balance between water, plants and fish and reduces the amount of regular maintenance associated with a pond. We'll be glad to show you how a water feature can enhance your property and provide you with all the information required on the Aquascape Ecosystem.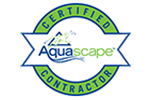 A Touch of Dutch Landscaping is proud to be a Certified Aquascape Contractor. CAC's are most qualified and informed pond installers in the water gardening industry. The certification program requires an in-depth application that includes referrals, pictures of completed water features, and general questions about their business and water gardening philosophy. These applications are then reviewed by technical agents at Aquascape, Inc. and a review board made up of other established CACs.

A Touch of Dutch Landscaping is proud to be a Certified RainXchange™ Professional. The CRP program provides credibility for landscape contractors and pond installers desiring to show their dedication and concern for the needs of our environment. The program provides education of water conservation issues and training on design and installation of the RainXchange™ System installations.