Click here for our latest COVID-19 Update
COVID-19 Update - April 22, 2020
Dear valued clients,
Yesterday the City of Stratford published a news release regarding the grounds maintenance of properties. The news release is as follows:
Tuesday, April 21 - Landscaping and lawn care
On April 3, the Province of Ontario issued a revised list of essential workplaces and services that are permitted to remain open and operate during the COVID-19 state of emergency.
Included on that list is maintenance, repair and property management services strictly necessary to manage and maintain the safety, security, sanitation and essential operation of institutional, commercial, industrial and residential properties and buildings. Landscaping and lawn care businesses that meet those provincial guidelines are allowed to operate in the City of Stratford, provided their work is related to the safety, security and sanitation of properties, and to ensure property standards are being met. That includes lawn cutting, raking, aeration, de-thatching and rolling, as well as clearing yard debris.
Landscaping services that are specifically intended to beautify a property, like flower planting, will not be permitted.
The City of Stratford encourages any business owner/operator with questions about the list of essential workplaces and services, and how they may be affected, to call the Province's Business Information Line at 1-888-444-3659.
And we urge all businesses, including landscaping and lawn care operations, to follow the guidance of Huron Perth Public Health.
In keeping with the Province's direction on essential services, the City of Stratford has begun its regular spring maintenance on municipal parks, playgrounds and sports fields to ensure those properties are safe and secure. That includes grass cutting and general maintenance. City staff will not be carrying out any non-essential maintenance or beautification work, including the planting of flowerbeds, until the emergency order is lifted.
Please keep in mind that even though they are being maintained, all of the City of Stratford's outdoor recreational facilities and amenities remain closed to the public under further notice to help slow the spread of COVID-19.
City of Stratford, Enforcement Dept
I have also spoken with the police officer who is in charge of enforcing the essential list. He has said that we are permitted to start working on maintaining lawns and gardens.
My plan is to start with two small 2-person crews on Friday, April 24th and, after reviewing all the safety regulations and measures at the end of day, to increase this to more crews the week after.  (A practice run, if you will.)
We will start with the cleanup of residential lawns and raking of flowerbeds so that we can start with residential lawn cutting next Thursday, April 30th, and lawn cutting on all properties the week of May 4th.
After the lawns have been cleaned up, we will start with the cleanup of all flowerbeds and mulching, where applicable. We will notify you a day or two before our planned visit for the cleanup. If you are not comfortable with us being on your property, please inform us of that by email.
For the sake of everyone's safety, and to comply with social distancing best practices, we ask customers not to have contact with the crew that is providing the cleanup. It is fine to acknowledge their presence through a window, but we prefer that you do not go outside to have a discussion with them or even just to welcome them.
If there is anything specific that you like us to do during the first visit, or something that is outside the scope of our intended work, please either call the office or send us an email so that we are aware of that and include it in our services during the first visit.
We will send you our COVID-19 policy and procedures in the next day so that you are aware of them. Thank you for your understanding during the past number of weeks. We are looking forward to maintaining your properties again in a safe and responsible way.
Regards and stay safe,
Johan Bossers
Have you been thinking about installing a water feature on your property? Or perhaps you have a pond, waterfall, or fountain and you've been concerned about winterizing your water feature in the fall, starting up your water feature in the spring, and/or ensuring your existing water feature is properly maintained on an ongoing basis.
Homeowners are increasingly opting for staycations over vacations, and looking for ways to enhance the enjoyment of their outdoor living areas. The installation of a water feature can help you create a backyard oasis replete with the sights, sounds, and effervescence that maximize the pleasure derived from your backyard.
Water features include everything from a low maintenance bubbling rocks to fountains and waterfalls to large, elaborate ponds with streams, waterfalls, fish and water plants.
We have installed numerous water features using the Aquascape Ecosystem. This system promotes a balance between water, plants and fish, creating a more self-sustaining water feature and reducing the requirement for regular pond maintenance. We'll be glad to show you how a water feature can enhance your property and provide you with all the information required about the Aquascape Ecosystem.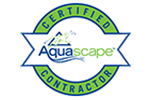 A Touch of Dutch Landscaping is proud to be a Certified Aquascape Contractor. CAC's are the most qualified and informed pond installers in the water gardening industry. The certification program requires an in-depth application that includes referrals, pictures of completed water features, and general questions about their business and water gardening philosophy. These applications are then reviewed by technical agents at Aquascape, Inc. and a review board made up of other established CAC's.

A Touch of Dutch Landscaping is proud to be a Certified RainXchange™ Professional. The CRP program provides credibility for landscape contractors and pond installers desiring to show their dedication and concern for the needs of our environment. The program provides education of water conservation issues and training on design and installation of the RainXchange™ System installations.