Creating a beautiful outdoor space often involves finding the perfect balance between functionality and aesthetic appeal. Landscaping with natural stone helps elevate outdoor spaces in terms of both beauty and practicality.
Whether you're aiming to build a beautiful pathway, add a captivating focal point, or design an entire landscape, natural stone options such as flagstone, armour stone, and river rock can transform your outdoor environment into a mesmerizing retreat. In this blog post, we'll explore the diverse uses and characteristics of these three popular natural stones, offering insights into how they can elevate your landscaping projects.
Flagstone: Timeless Beauty and Versatility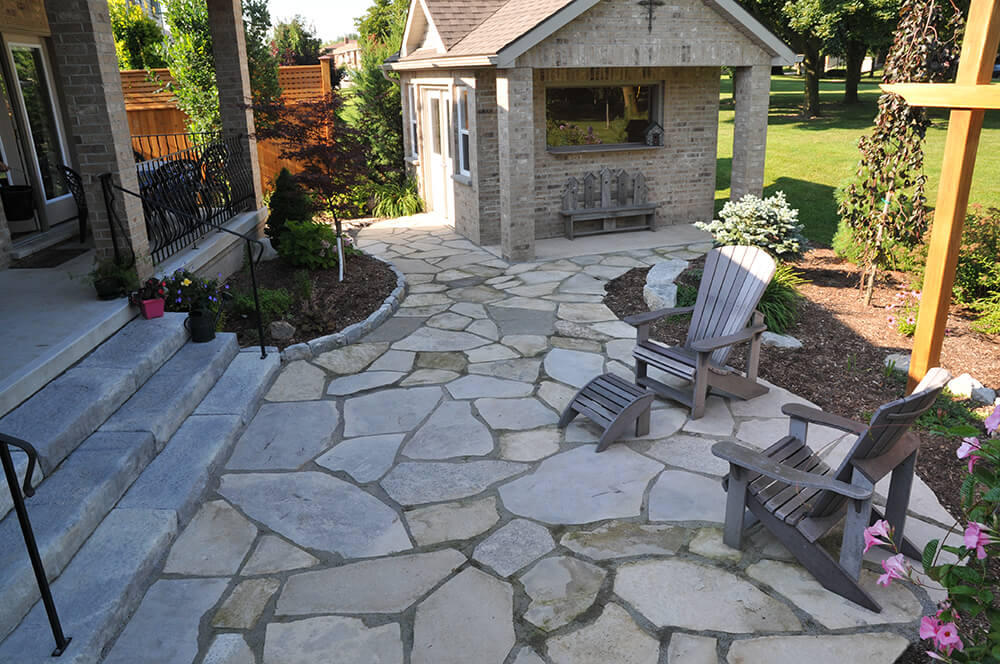 Flagstone, characterized by its relatively flat, irregular-shaped slabs, is a timeless choice for adding elegance and functionality to your landscape design. This type of natural stone is available in various colors, including earthy browns, grays, and blues, offering a wide range of options to suit your aesthetic preferences.
Pathways
Flagstone can be used to create visually appealing and durable pathways throughout your garden or yard. By arranging these flat stones in a natural or geometric pattern, you can achieve a unique and inviting path.
Patios
Transforming a bland outdoor area into a captivating patio is effortless with flagstone. Its natural texture and color variations provide a rustic charm, while its durability makes it an excellent choice for outdoor living spaces like patios.
Stepping Stones
Create a whimsical and enchanting garden by strategically placing flagstone stepping stones amidst lush greenery. These irregularly shaped stones add character and functionality, guiding visitors through your landscape while preserving its natural beauty.
Armour Stone: Majestic and Enduring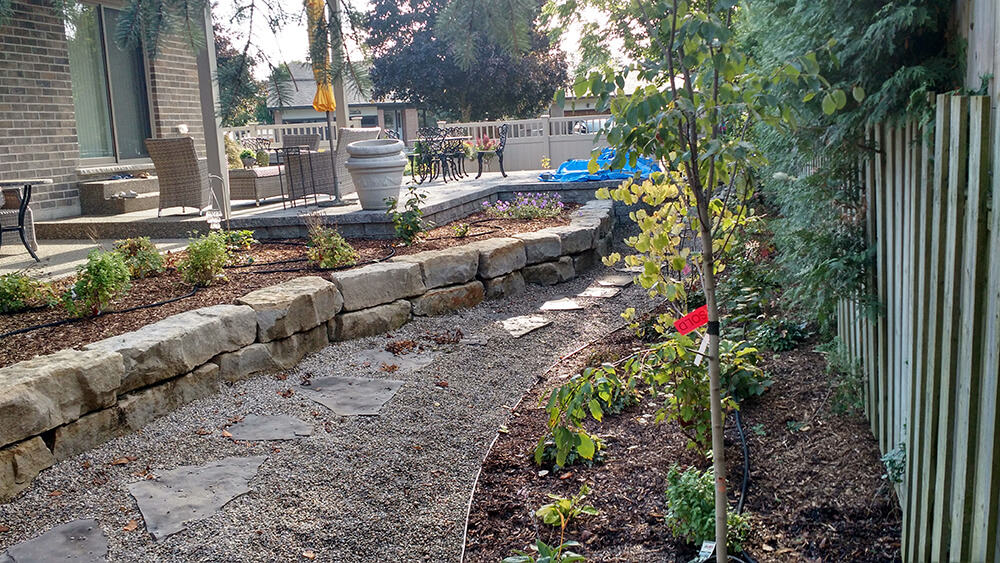 Armour stone is a heavyweight natural stone renowned for its strength and durability. These large, rugged stones bring a sense of grandeur to any landscape and are commonly used for creating retaining walls, borders, and eye-catching focal points.
Retaining Walls
Armour stones are ideal for building sturdy and visually striking retaining walls. Their substantial size and weight provide stability while adding a touch of natural beauty to your landscape. These walls help prevent soil erosion, level uneven terrain, and create distinct planting areas.
Garden Edging
Utilize armour stone to define garden beds, pathways, or driveways. The imposing presence of these stones adds an element of sophistication and serves as a functional barrier, protecting your plantings and preventing soil displacement.
Water Features
Incorporating armour stones into water features, such as cascading waterfalls or natural-looking ponds, can create a captivating oasis in your garden. The rough texture and natural colors of these stones enhance the visual appeal of your water feature, evoking a serene and peaceful atmosphere.
River Rock: Serene Simplicity and Versatile Charm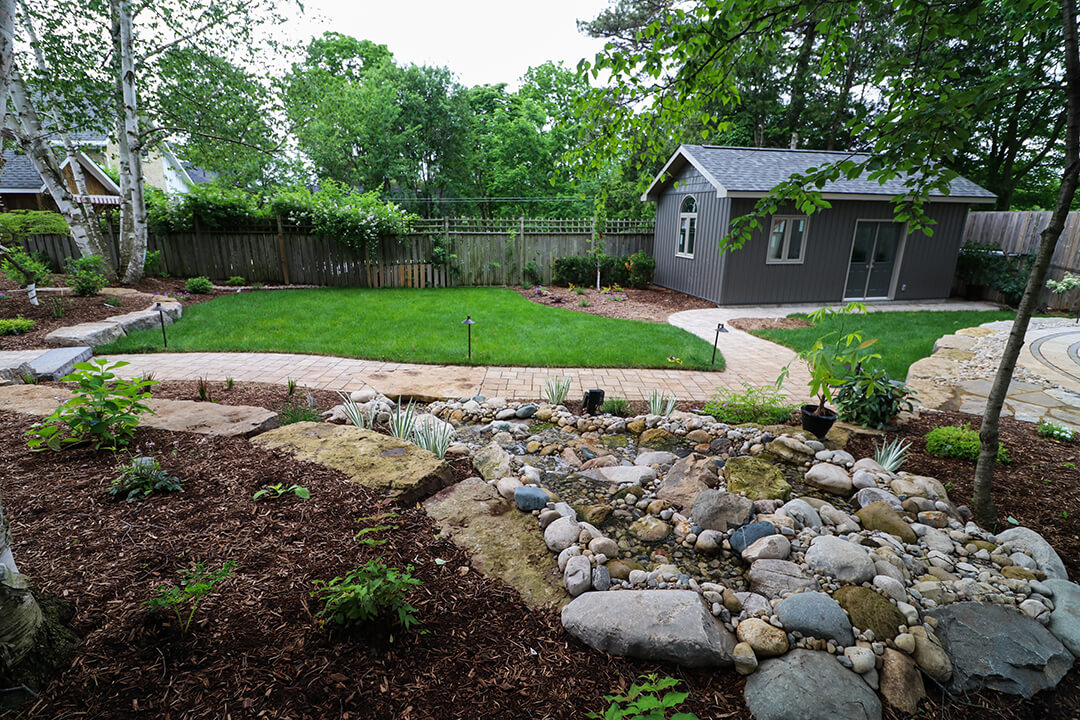 River rock, also known as river stones or pebbles, is a smooth natural stone typically found in riverbeds. Its unique rounded shape and earthy, soothing colors make it an excellent choice for enhancing various aspects of your landscape.
Ground Cover
Use river rock as a ground cover to create a low-maintenance and visually appealing landscape. Its smooth texture and uniformity offer a soothing backdrop for vibrant plants and flowers while preventing weed growth.
Dry Creek Beds
Mimic the beauty of a meandering stream by incorporating river rock into a dry creek bed. This decorative feature adds visual interest and can be used in xeriscaping projects. But they can also be functional, directing rainwater from rain barrels, eavestroughs, or reservoirs into beds, improving drainage in areas prone to flooding.
Waterless Ponds
River rock can be arranged in a layered manner to resemble the bottom of a pond or lake. This creative landscaping idea provides a unique focal point, adding depth and texture to your outdoor space without the need for water.
Pondless Streams and Waterfalls
The soothing sights and sounds of gently flowing water can be achieved in your own backyard. To create a pondless stream or waterfall, river rock is assembled down a slope and recirculating water cascades down the rock into an underground reservoir, where it's pumped back to the top of the water feature.
Landscaping with natural stone opens up a world of possibilities for creating a captivating outdoor space that harmonizes with nature. Its timeless beauty, versatility, and durability make natural stone an ideal choice for pathways, patios, retaining walls, and other landscaping elements.
Natural stone is a permeable option that can benefit the environment by preventing runoff or pooling standing water. With increasing frequency and amounts of rain, permeable solutions work by allowing water to pass through joints and filter it back into the ground alleviating pressure on rivers and storm sewers. Permeable options can also reduce heat by counteracting how they absorb and emit the sun's heat over traditional paving.
Whether you prefer a formal garden or a rustic retreat, natural stone can be adapted to suit your style and preferences, breathing life into your outdoor oasis. Planning a landscaping upgrade? Visit our Project Gallery for ideas and inspiration. And if you'd prefer to have a professional design and/or installation, contact us.