A patio is a quintessential part of a proper backyard and, more often than not these days, homeowners are opting for stone patios rather than poured concrete. This blog post aims to make choosing materials for your patio project easier.
But there are so many products available to choose from these days that selecting the right one(s) for your project might seem a bit daunting.
Below we've outlined some key considerations to help you get a result that looks great and lasts a long time.
Some things to consider when choosing materials for your patio project

Size and Intended Usage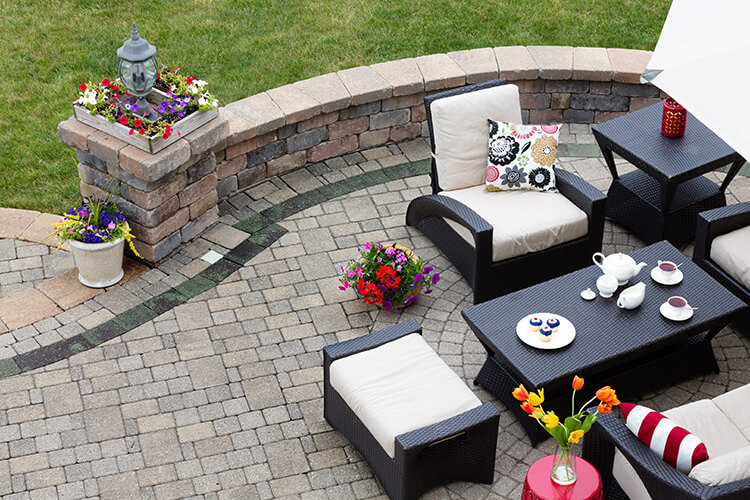 Flagstone is often one of the first products people think of when they start planning a patio. It's beautiful and natural, coming in a wide range of shapes, sizes, and colours. While it can be cut into geometric shapes, many like the rustic appearance of a patio created using various sizes that are pieced together to create a walkway and/or patio.
However, if you're planning a larger patio – one that is going to have a lot of seating and see a lot of traffic, the naturally uneven surface of flagstone may be an issue.
Pavers with a smoother, more consistent surface will be easier to walk on, and keep patio furniture from wobbling back and forth. And if you're planning a pool surround, not only do you want a safe traffic area, but one that doesn't collect water in its nooks and crannies.
If you like the look of flagstone, but want a smoother surface, there are precast pavers designed to emulate flagstone that would work nicely.
Style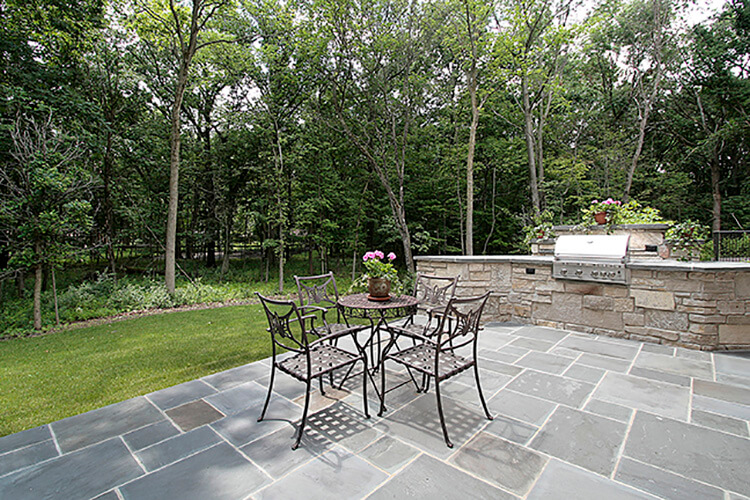 Above, we mentioned the rustic style, which is a subset of traditional and informal styles. The main styles to consider include traditional, modern, formal, and informal.
Traditional design is defined by curved lines and uses multiple colours. There tends to be more texture and detail in the stone choices.
Modern or Contemporary design emphasizes clean, straight lines, 90-degree angles, and ethereal colour choices with minimal variation.
Informal design tends to share traits with traditional design. The layout has a more natural, less structured flow, whereas formal design tends toward a more ordered, geometric appearance with repeated patterns.
When you're selecting pavers for your patio project, you want to consider both your personal style as well as the style of your home. If your home's design is more traditional, but you would like a more contemporary design for your patio, you might consider adding a bit of colour and texture to your patio that ties in with your home's exterior coverings.
Colours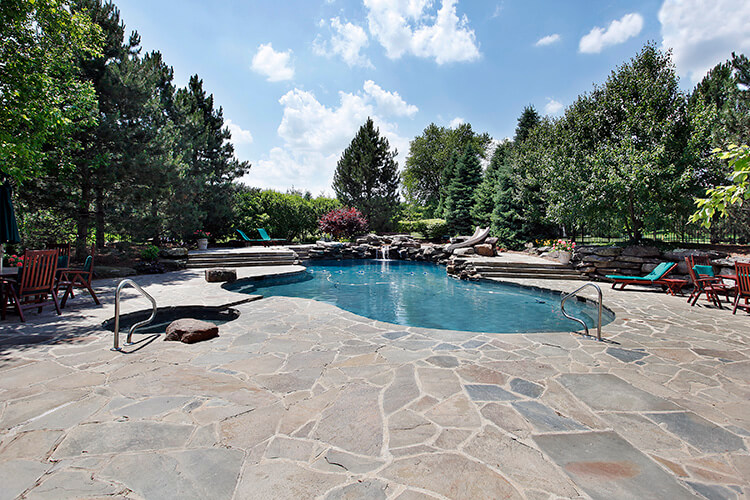 There have never been more colour options for engineered stone products than there are today. And even natural stone is available in a wide array of colours and shades.
Generally, we recommend working with your existing environment – your home's exterior cladding, other structures, and existing hardscaping – when selecting a colour(s) for your patio.
And consider adding visual interest to your patio's appearance by selecting a contrasting border or inlay products. The options really are endless.
Budget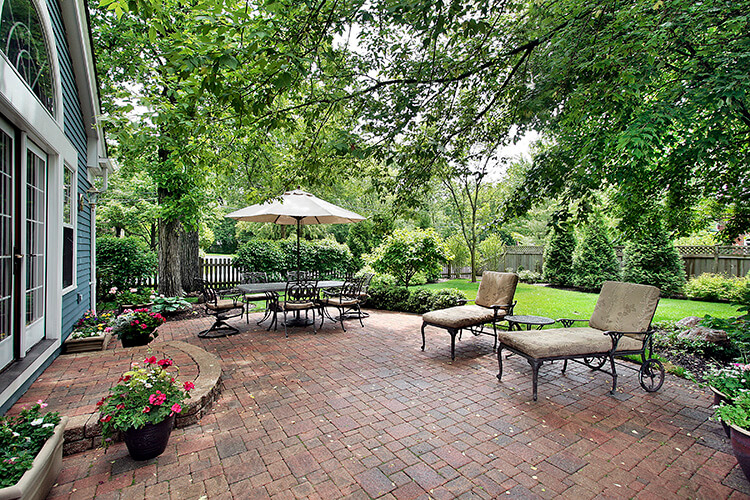 The budget factor needn't take the fun out of your material selection process. There are lots of great options at every price point. If your budget is limited, consider selecting a cost-effective product as your primary material and then splurging on something a bit more expensive for a border, inlay, stairs, or other accent.
You might also look for discontinued or older stock, as these products can tend to be priced to sell quickly. Just keep in mind that there may be limited quantities of your chosen materials, so double check with the retailer about total available product in square feet, and compare that to what you'll need to complete your project.
Regardless of what type of patio you're planning, you want to be sure you're happy with the choices you make both short- and long-term. We work with clients to help them select the best options for their needs, resulting in a patio that they love to spend time on, year after year. Contact us today to get started.