At one time or another, many homeowners will encounter issues with poor draining soil. This can lead to flooding of patios, gardens, and low-lying or high-traffic grassy areas.
Stratford and area, in particular, has predominantly clay-based soils, making drainage problematic from the outset.
But not to fear, there are various solutions – some simple, some more complex – to your drainage woes.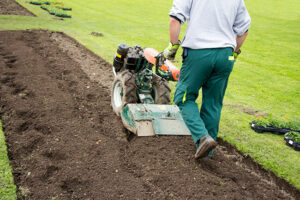 Improve Drainage
Gardens
Mix in compost or sand. These materials have larger particles than clay, so incorporating them into the soil will create space for drainage. Just ensure that you mix the added materials in well – ideally by rototilling – to prevent layers from forming.
Lawns
If water pools in one or more areas of your lawn, the best strategy is to add drain tile. It's a bit laborious (and potentially something you'll want to outsource), but will be effective in eliminating standing water from your yard.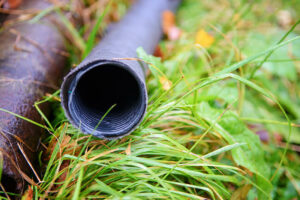 Use a 4" perforated drain tile, either (with or without a sock) and lay it in an 8 to 10-inch deep and 12-inch wide trench in the ground. Backfill around tile with a sandy loam soil that will help facilitate drainage of excess water into the tile.
If possible, extend the tile to an area where the water can run off your property. If that's not possible, create a 3' x3' x3' pit filled with ¾ clear stone where the tile can drain into and the water can disperse into the lower soil levels.
The top 4 to 6 inches of the trench should be filled with good quality top soil to ensure some water is retained to nourish grass, preventing the lawn from drying out during dry periods.
Patios
Patio areas, especially older ones or those that were poorly constructed, may fall prey to standing water. This can make the patio unusable until the surface either drains by itself or is cleared with a broom or squeegee.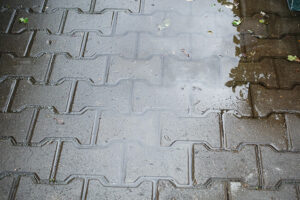 Standing water on stone surfaces can also lead to mossy growth, which is both slippery and unsightly. Prolonged pooling water can also negatively affect your home's foundation and may even seep inside your basement.
The best solution to an ill-draining patio is to remove all stones and increase the level of the patio's foundation by adding several inches of well-draining aggregate. In addition, it's important to ensure that the patio has a slight slope away from the house, so that the water can drain freely and without risk of harming adjacent structures.
High-Traffic Areas
Some grassy areas serve as throughways (from the front to the back yard, for example). Many homeowners, especially owners of newer homes find that their side property lines shared with neighbours become tough to navigate due to standing water in wet conditions.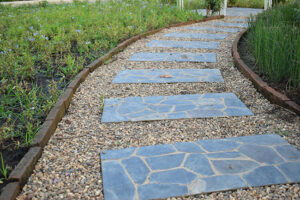 With houses being built closer together these days, new home owners may also find that plants and grass grow unpredictably or inconsistently due to lack of sufficient sunlight. When you add that to the fact that side yards are generally not used or seen by many, it's not surprising that many look to a low-maintenance option to address all of these issues at once.
The most common solution is the installation of perforated drain tile, keeping with the original slope/grade of the property (typically back-to-front). Once the drain tile is installed and the trench backfilled, the area is finished with a combination of river rock and slabs to achieve a result that is navigable, well-draining, nice-looking, and low-maintenance.
Work with Wet Conditions
Of course, instead of fighting standing water, and assuming the issue isn't too pervasive, there is a way you can work with the situation.
Choose moisture-loving plants and trees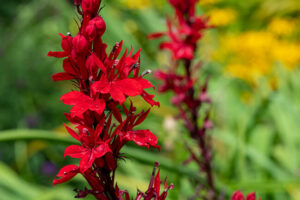 Just as some plants and trees flourish with more or less light than others, they all have varying tolerances of moisture. Choosing varieties that can tolerate slower-draining conditions will relieve you of what could otherwise be a ongoing battle. Ideally, you'll still want to add some well-draining material to the soil to avoid plants having perpetually wet "feet".
Some of these solutions are easier to implement on your own than others. If or when you reach the end of your capabilities and want the job done quickly and properly, give us a call. We regularly included drainage improvement measures in our landscaping projects and would be happy to help.