The COVID-19 pandemic brought about a seismic shift in how we perceive and utilize our living spaces. As people spent more time at home, the importance of creating functional and beautiful outdoor environments became evident. While the pandemic itself is receding, the impact it had on our lifestyles and preferences is not going away. This is clearly reflected in the enduring landscaping trends that have emerged in the wake of the crisis. Here, we explore the post-pandemic landscaping trends that are here to stay.
Outdoor Living Rooms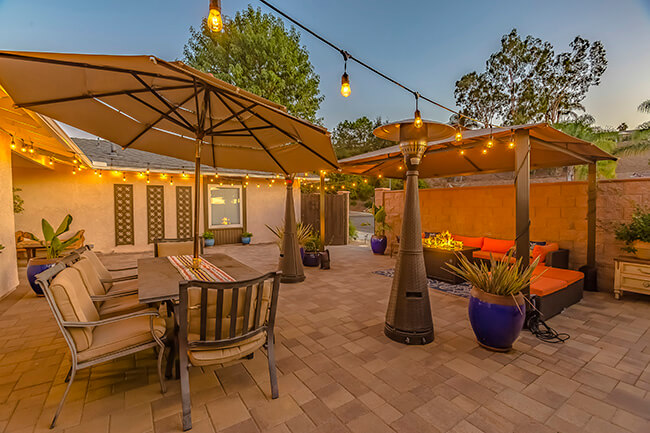 The concept of outdoor spaces as extensions of our homes gained immense popularity during the pandemic and is set to remain a staple in landscaping. Outdoor living rooms equipped with comfortable seating, weather-resistant furniture, and even fully functional kitchens have become the new norm. People are realizing that their gardens or backyards can serve as a retreat for relaxation, entertainment, and remote work.
Multipurpose Gardens
Beyond aesthetics, gardens are now being designed with functionality in mind. Multipurpose gardens that incorporate edible plants, such as vegetables, fruits, and herbs, offer a sustainable way to supplement household groceries. This trend reflects a broader movement towards self-sufficiency and a desire to connect with nature through hands-on activities like gardening.
Wellness Retreats
The pandemic prompted a heightened focus on mental and physical well-being. As a result, landscapes are being transformed into wellness retreats. Meditation labyrinths and corners, yoga decks, and serene water features create tranquil spaces for relaxation and self-care. This trend underscores the growing understanding of the positive effects that nature can have on our overall health.
Native Plant Landscaping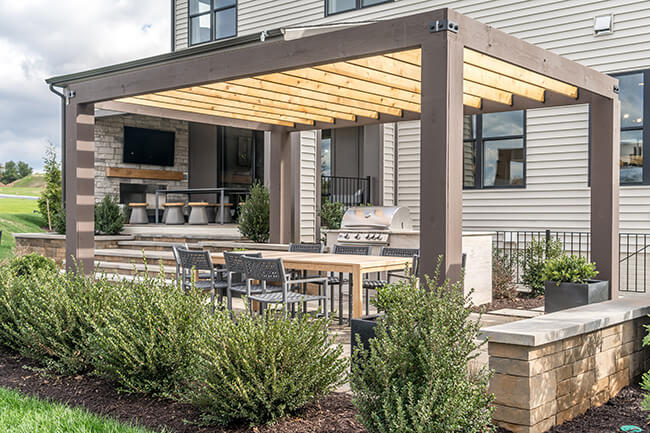 Sustainable and low-maintenance landscaping practices have gained traction, with native plants taking center stage. These plants are adapted to the local environment, requiring less water and minimal upkeep. The trend toward native plant landscaping aligns with the broader global movement to conserve biodiversity and support local ecosystems.
Tech-Integrated Outdoors
Technology has permeated every aspect of our lives, and the outdoors are no exception. Smart irrigation systems, outdoor lighting controlled via mobile apps, and even automated lawn mowers are becoming commonplace. This integration of technology enhances convenience and efficiency in maintaining outdoor spaces.
Staycation-Focused Design
Travel restrictions and safety concerns prompted a renewed appreciation for the beauty of one's own surroundings. Staycation-focused landscaping designs, featuring resort-like amenities such as swimming pools surrounded by lush landscaping, fire pits, and hot tubs, are likely to continue. These spaces provide an escape without leaving the comfort of home.
Eco-Friendly Landscaping
Environmental consciousness has led to an increased demand for eco-friendly landscaping practices. Rainwater harvesting systems, permeable paving, and xeriscaping (landscaping that requires minimal water) are becoming staples in modern outdoor design. This trend reflects a collective commitment to minimizing the ecological footprint of our living spaces.
Outdoor Workspaces
Remote work arrangements prompted a need for adaptable workspaces, and outdoor settings proved to be both refreshing and conducive to productivity. As hybrid work models persist, the integration of outdoor workspaces—whether it's a shaded patio corner or a garden gazebo—will remain relevant.
The pandemic reshaped our relationship with our living spaces, elevating the importance of the great outdoors. The landscaping trends that emerged during this time are not fleeting fads; they signify a lasting transformation in the way we perceive, design, and use our outdoor environments. From functional outdoor living spaces to sustainable practices and wellness-oriented designs, these trends offer a glimpse into a future where our connection to nature is more profound and holistic than ever before.
Want help upgrading your landscaping? Contact us.