When it comes to selecting plants, shrubs and trees for your gardens, there are myriad options you can choose to add visual interest, minimize maintenance, and attract birds, bees, and other pollinators. But the real magic happens when you select plant combinations that complement one another, elevating the overall effect.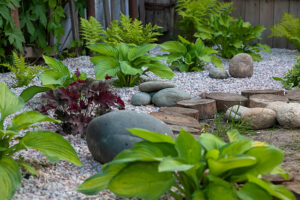 When you drive by a home and find yourself admiring their beautiful landscaping, it's typically not due to an individual element in their garden, but rather the combination of plants, shrubs, and trees that work nicely together.
Regardless of whether you're planning a formal or informal style, you can find specimens that will help you achieve the look you're aiming for. A few things to consider:
Height
Create depth and balance by grouping elements of various heights. Taller plants/trees can be placed at the back (or middle for an island flowerbed) while shorter selections can be added at the front or around the edge.
Shape
Consider the various shapes of foliage, flowers, and overall plants. While consistent shapes throughout a design can be effective, they tend to lend a more formal appearance, so choose shapes accordingly. Also, look for options that tend to naturally hold the desired shapes to minimize the additional task of pruning.
Quantity
Design theory dictates that odd numbers are more visually appealing, so group plants, shrubs, and trees accordingly.
Seasonality
Some perennials look great in spring, summer, and fall (and even winter). Others have features that really shine for only a limited amount of time during one season, and then are rather unremarkable the rest of the year. For example, Forsythia is full of brilliant yellow blooms in the spring while the Burning Bush foliage is a brilliant red in the fall. Group elements to ensure that at least one plant or tree is always offering some visual interest.
Colour
Play around by planting different shades of the same colour. Go monochromatic by planting elements whose colours are all the same, but size and shape varies. Or select plants, shrubs, and trees whose colours are different from one another but complementary.
Hardiness
If you're planting combinations that you want to come back year after year, ensure they're all appropriate for your hardiness zone. Stratford and area's hardiness zone is generally a 6. If in doubt, ask the nursery where you buy your plants.
Plant Combinations for Sun and Shade
Sun
Coneflowers, Ornamental Grasses , Black-Eyed Susan, and Gayfeather (Liatrus) creates a low-maintenance prairie look that is colourful and showy from early summer to late fall.
Shade
Combining Hostas with Ferns and Japanese Forest Grass creates visual interest with a range of leaf sizes, textures, and colours. And Hostas provide the added bonus of white or pale purple blooms in the summer.
These are just two of many types of plant combinations you could try in your gardens. If you're interested in adding or enhancing visual interest in your gardens but don't want to do it yourself, contact us to discuss your landscaping goals.