Enhance the appearance and enjoyment of your home on any budget
First impressions are lasting impressions. And this is as true of your home's appearance as it is your personal appearance. Little updates can go a long way. Of course, extensive updates can as well. Regardless of your budget, we've compiled some landscaping tips below that will help you put your home's best foot forward.
Any Budget
Lawn Care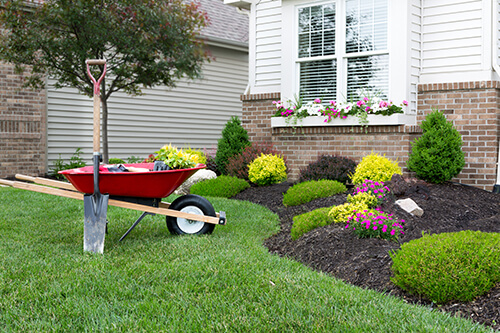 If your home has a grass-dominant greenspace in front, keeping your lawn neat and tidy is a no brainer for improving and maintaining curb appeal. Keep grass cut to a consistent length, but not too short as doing so can cause undue stress and increased exposure to weeds and pests. Edging your lawn along walkways, gardens, and your driveway provide a nice, polished appearance as well.
Garden Maintenance
Eliminate dead foliage as seasons change and cut back or split any overgrown perennials. Pull weeds and apply a thick layer of mulch, which will instantly give your flowerbeds a uniform appearance. Mulch has the added benefit of helping to maintain moisture and keep weed growth down.
Pruning & Trimming
It's hard for people to get a first impression of your home if they can't see it. If you have large trees, trim back dead limbs and those that block the view and/or sidewalks. Shrubs against your home and along walkways should be pruned and shaped. And be sure to train any wayward vines on a trellis, pergola, or fence.
Hardscape Repair
We can't overlook your yard's stairs, walkways and driveways. If your stone or concrete is in a state of disrepair, it can take away from your home's otherwise neat appearance. Eliminate weeds popping up in cracks and repair or replace broken stones or pavers. Ensure all hard elements are level and secured in place to ensure the safety of your visitors.
Moderate Budget
With a moderate budget, you can add some architectural interest to your front yard and entrance that will make it look more inviting. Here are a few ways to add warmth to your home's façade:
Softscaping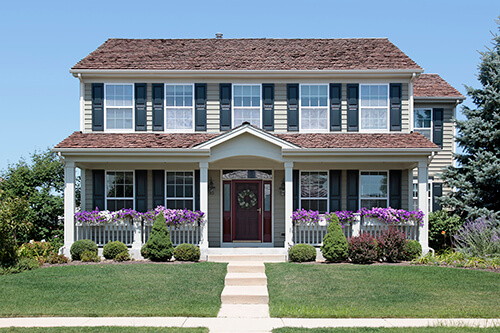 Fill in flat, exposed areas of your home's exterior with shrubs, ornamental grasses, and small trees. This will add depth, balance, and visual interest to areas that were previously a blank canvas. Remember not to obstruct windows.
Window boxes
Adding boxes of annuals below windows allows you to add splashes of colour in the warmer months and perhaps some seasonal décor for the holidays. Ensure that box shape and size is balanced with window size and coordinated with the rest of your home's exterior finishes.
Sitting area
Create or better define an area where you can sit and watch the world go by. A small stone patio or porch not only increases curb appeal but also creates additional outdoor lounging space. Be sure to add appropriately-sized greenery to add visual interest and a bit of privacy.
Small water feature
The appearance and sound of a bubbling rock or small fountain creates an attractive focal point for passersby and enhances your own enjoyment of a front patio or porch. Birds are also more likely to visit feeders when there is a nearby water source.
Upgraded concrete steps or walkway
Consider upgrading your standard concrete sidewalk and/or stairs with natural stone pavers. You can create a traditional or modern look to match the style of your home, and this upgrade can add significant visual impact to your front entrance.
Shade tree
While planting a tree won't provide instant shade, over time a properly selected and placed tree will provide visual interest as it matures. Some varieties grow faster than others, so if you're looking for quick results, consider a Birch, Ivory Silk Lilac, Crab Apple, or a smaller Maple variety like the Tartarian Maple.
Larger Budget
If you have a more significant budget for upgrading your front yard and entrance, here are some sure-fire ways to enhance curb appeal and enjoyment while adding value to your home.
Upgraded driveway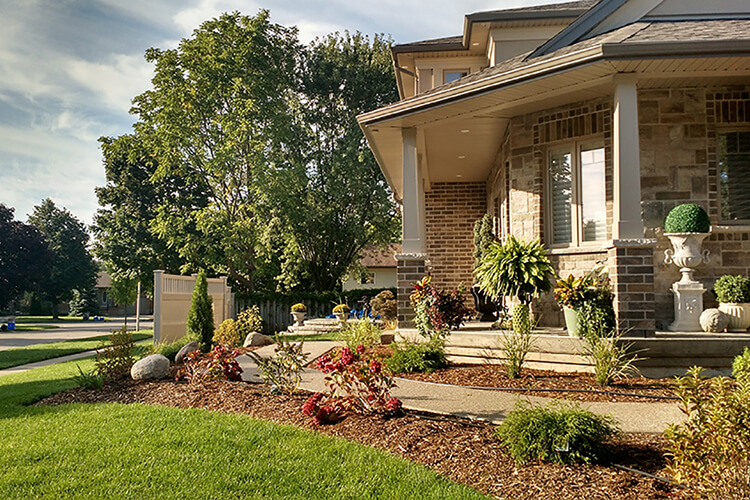 Consider replacing your asphalt driveway with a professionally-installed stamped concrete or natural paver driveway. This area of your front yard is highly visible from the street and sidewalk, so making it visually interesting not only adds curb appeal but also distinguishes your home from others in your neighbourhood.
Privacy or windscreen
Adding a row of small trees, shrubs, or natural grasses can add privacy, cut down on wind exposure, and better define your property. As an alternative, you might consider mixing well-placed fence panels with shrubbery for a balanced and visually-compelling appearance.
Pond or water feature
Many find the sights and sounds of a pond or waterfall both calming and visually appealing. Adding a water feature that is proportionate to the size of your house and yard increases the value and enjoyment of your home. Adding lighting allows you to enjoy your pond or waterfall even after the sun has gone down.
Multi-tiered gardens
If your house is tall and you're your front yard is sloped, you might consider adding tiered flowerbeds defined and contained by natural stone retaining walls. For colour and interest throughout the year, fill your beds with a mix of shrubs, flowering trees, perennials, and annuals in a balanced mix of shapes and sizes.
Whether you're getting your house ready to put on the market or just keeping up with the Jones down the street, there are big and small things you can do to improve your home's appearance and value. Of course, if you're not up to the task, we are here to help. Just contact us to get started.