Level Outdoor Living with Retaining Walls and Firepit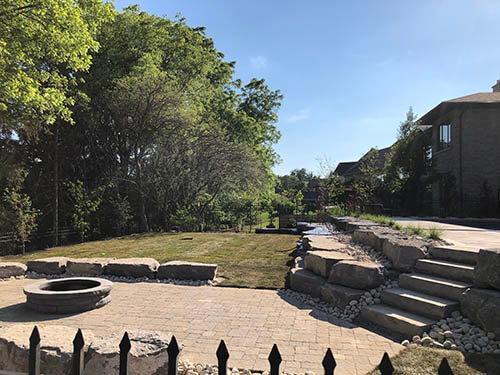 Budget Range: $60,000+
Location: Stratford, Ontario
This property was steeply graded toward a natural area beyond the fenceline, making it difficult to enjoy the yard and beautiful surroundings. The homeowners wanted to level off the entire area, just steps down from a pool that had been added previously.
We raised the back edge of the yard to eliminate the slope, containing the substantial amounts of soil with an armour stone retaining wall. Much of the new flat yard was sodded, but we did add a stone firepit and surrounded it with armour stone seating.
Trees were planted in select peripheral areas to add visual interest and privacy, and also to blend into the adjacent natural area. Finally, low-maintenance river rock was added at the base of the rear retaining wall to eliminate the need for grass cutting, which would have proven difficult in the confined space.
This project included the following elements:
Terraced Backyard
Fire Pit
Privacy Planting
Retaining Wall

Low-Maintenance Hardscaping

Armour Stone
River Rock
Beech Trees
Permacon Products
Terraced back yard

Fire pit

Privacy Planting
Low-Maintenance Hardscaping

Armour Stone
River Rock
Beech Trees
Retaining Wall
Permacon Products