Adding Privacy to a Corner Lot Backyard Oasis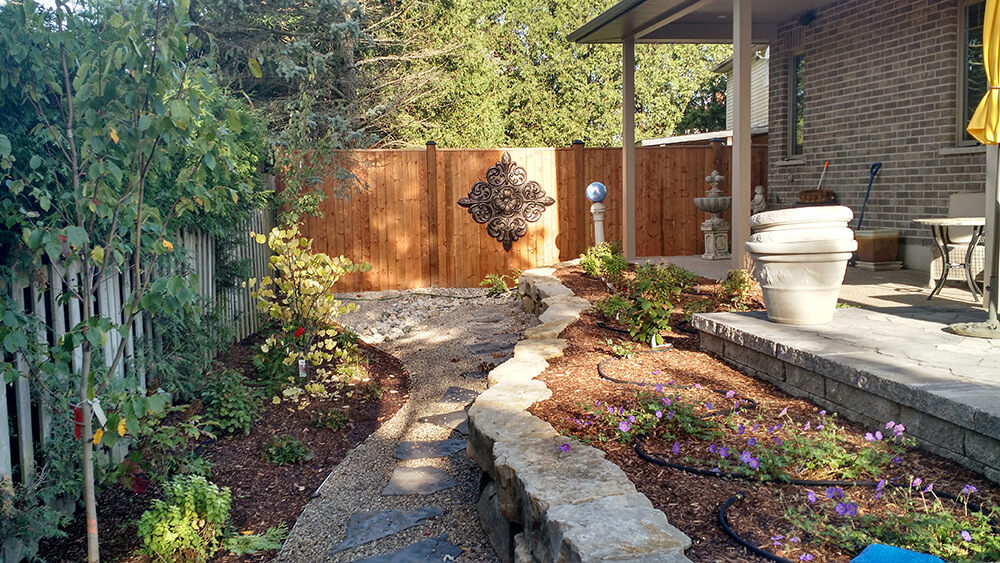 Project Year: 2018
Budget Range: $50,000+
Location: Stratford, Ontario
Our client wanted to improve the curb appeal of their corner property. But because corner lots are generally exposed to neighbourhood traffic on two sides, they also wanted to add beautiful and effective privacy measures.
The goal was to create a backyard oasis including a sitting space whose privacy could be achieved without having to use a solid fence line.  The client also wanted to experience the soothing sounds of a waterfall without the maintenance of a pond.
We added a raised flower bed with armour stone retaining wall with a stepping stone walkway alongside and a variety of trees, shrubs and plants to soften the overall appearance.
The new raised stone patio surrounds the home and adds more seating space that's made private using sections of fence panels and shrubs along the side of the property. And the oasis was completed with a gurgling, pondless waterfall that can be heard from the patio.
The home's appearance has been improved on all sides, but the view from the street has now been obscured, significantly increasing privacy and enjoyment of the homeowner's backyard.
This project included the following elements:
Celtik Wall (Permacon)
Rosebel Slabs (Permacon)
Pondless waterfall
Armour stone
Terraced flower bed
Raised patio
Privacy for corner lot
Waterfall
Stepping stones
Celtik Wall (Permacon)
Rosebel slabs (Permacon)
Pondless waterfall
Armour Stone
Terraced flower bed
Raised patio
Privacy for corner lot
Waterfall
Stepping stones